The Moroccan desert excursion starts from the desert gate of Morocco M'hamid by 4×4 to the largest dunes in Morocco, the dunes of Erg Chegaga by the old track of Paris Dakar. to make the three types of the Sahara Erg, Reg and Hamada. Arrival at Erg Chegaga in the afternoon to enjoy the superb sunset over the top of the dunes. Night under tent of the wild bivouac in the middle of the dunes of Chegaga.
2nd Day: Erg chegaga – Lake Iriki – Oasis Lmadouar
In the morning, our trip in the southern Moroccan desert in 4×4 continues on the old Paris-Dakkar track towards the large dry lake of Iriki passing by Ouad Chegaga and its nomadic tents. Crossing the stone desert and installing the bivouac at Lmadouar oasis in the middle of the mountain. Evening around the fire with a tasting of sand bread. night in a Berber tent or under the stars.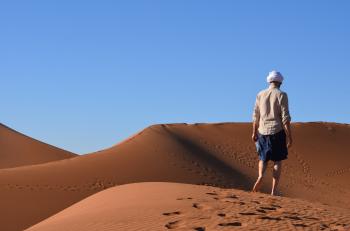 3rd day Oasis Lmadouar – Mhamid
After breakfast in our wild bivouac, return to the gate of the Moroccan desert, M'hamid, by a sandy track. Lunch in the shade of the palm trees in the sacred oasis.
Arrival in M'hamid in the afternoon.
Dinner and night with locals.